Yeah, I know...who's going to believe that I, of all people, am done collecting ThinkPads...
More on that aspect of the story a little later...
Here's my latest catch, which will be a delayed Mother's Day gift for my better half...a top-shelf Z61m with a Ti lid...
the basics:
ThinkPad Z61m (9450-38U)
T2300E(1.66GHz), 1GB RAM, 100GB 5400rpm HD, 15.4in 1680x1050 LCD, 128MB ATI Radeon X1400, CDRW/DVDRW, Intel 802.11abg wireless, WWAN, Bluetooth/Modem, 1Gb Ether, UltraNav, Sec Chip, IEEE 1394, FPR, Camera, 6c Li-Ion batt, WinXP Pro
The Titanium lid doesn't look bad:
Until you take a closer look, at an angle, that is...
Truth being told, apart from Harry's Holy Grail and its close relatives (Ed's and Don's machines) I haven't seen too many of Ti-spec'd units in better shape than this one when it comes to the lid itself. These babies just don't age gracefully, which is a sin, since they're gorgeous machines in my opinion.
Up and running, but we're not quite done here: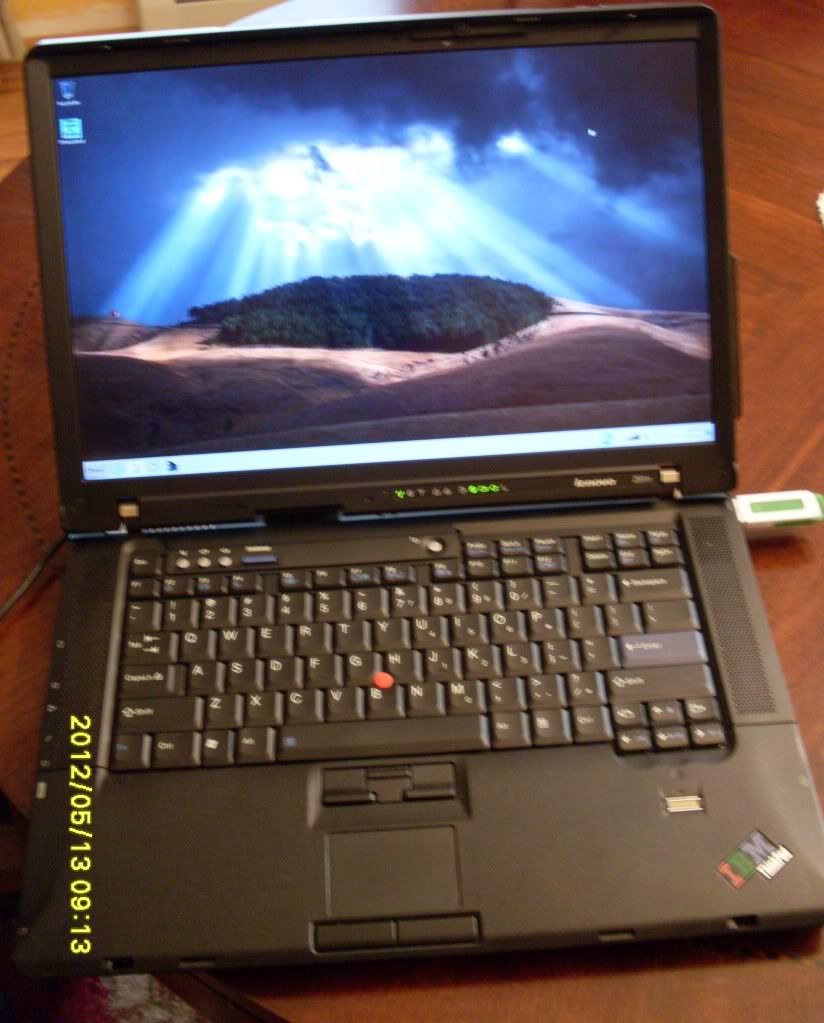 The upcoming upgrades include:
a) A T7200 CPU coming next week.
b) An Atheros-chipped a/b/g/n card (42T0825) which should arrive around the same time
c) A brand new Toshiba 500GB/7200 rpm HDD (already installed)
d) 3GB RAM (already installed)
While not a FlexView, the LCD is a very nice one - likely as good as it gets for a TN panel on ThinkPads...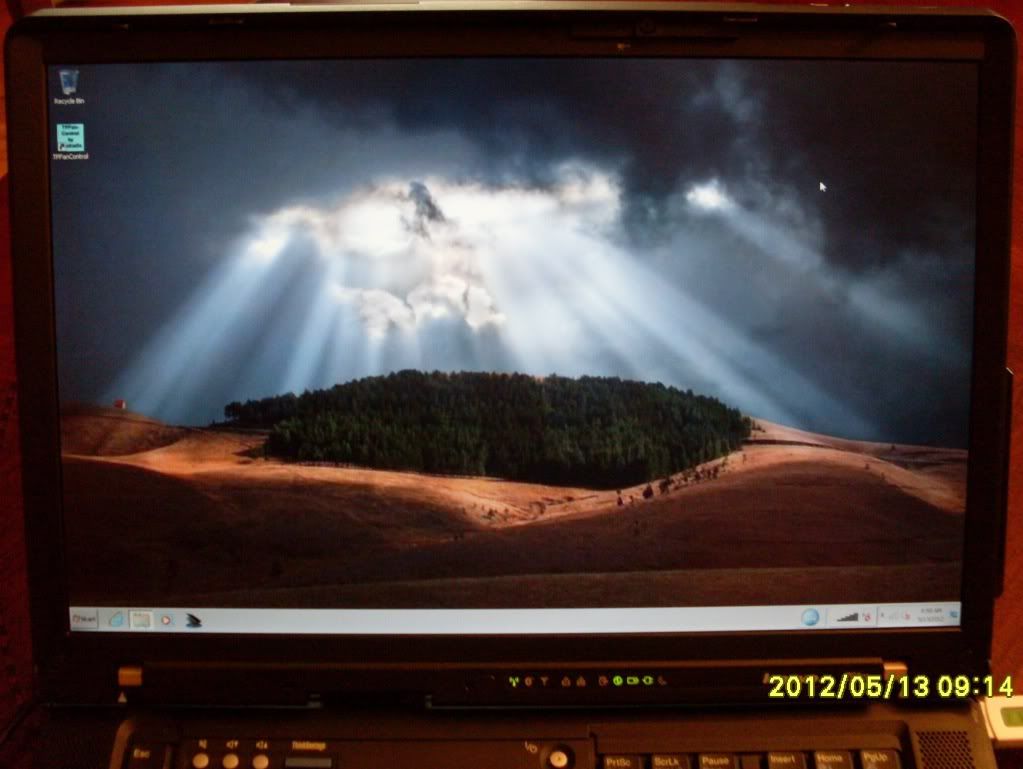 Now, what's all of this got to do with me pulling a plug on collecting ThinkPads?
Plain and simple:
there isn't a single model that I desire and don't own at this point in the game
. Seriously.
Here's the overview:
a)
701C Butterfly
:
Although it rarely gets turned on, it's still a stunner. Bought from Bill Morrow himself several years ago, and lovingly restored by
RealBlackStuff
afterwards, all this one needs is a fresh load of OS and a new battery. Will get to that sometime this summer.
b)
A31p
:
Currently undergoing an umpteenth planar swap, it will enjoy semi-retirement in the guest room once fully functional.
c)
T43p
:
More about this monster in another post...my main rig...
d)
R60F
:
A FrankenPad toy for my twin boys. Bought from a fellow forum member as a lowly R60e with a Celeron CPU and XGA LCD but in excellent physical condition, it has subsequently been upgraded to a T2500 Core Duo CPU and a 15" SXGA+ IPS LCD. More RAM and a T7200 coming sometime next week...
e)
T60
:
This 14" top-shelf model (T7400/X1400/abgn/SXGA+...) has been my daughter's favourite for quite some time. She'll be offered an upgrade to one of my T61 units before they hit the market to be sold in their final guises.
f)
X60 tablet
:
My travel companion with an extremely clean and bright SXGA+ AFFS LCD. Has everything I need and nothing I don't...
Now, with my bride of 13 years getting this Z...we're calling it a day. At least until Lenovo introduces A4x series with an QXGA IPS LCD and an Ivy Bridge...
Any and all remaining extras will be offered in the Marketplace here sometime soon...stay tuned...
_________________
...Knowledge is a deadly friend when no one sets the rules...
(King Crimson)
Cheers,
George (your grouchy retired FlexView farmer)
AARP club members
:
A31p, T43pSF
Abused daily
:
R61
PMs requesting personal tech support will be ignored.