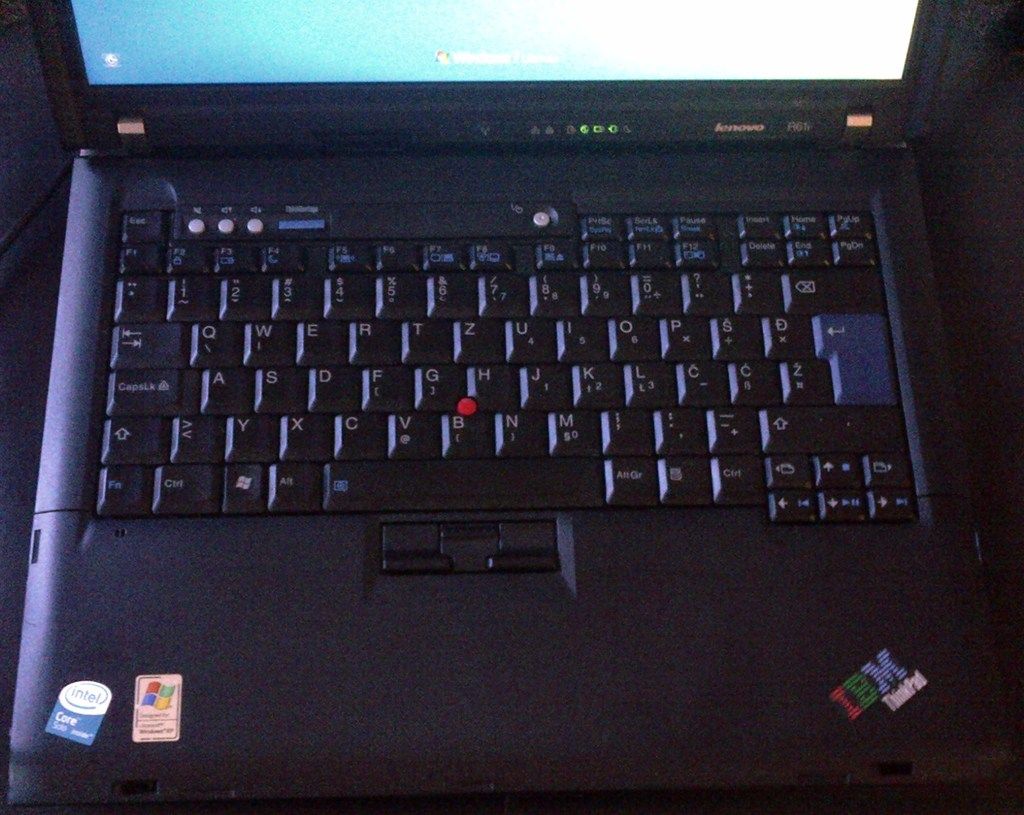 Now, onto my unique
R61FL
which has been the most extensively modded one out of all four ThinkPads that I'll be keeping.
For those unfamiliar with the model in question, it was only sold in South Asia and certain parts of Europe - never in Americas - for a short period of time in late 2007/early 2008. The specs were usually low-grade, and this is what the particular machine started its life as:
Quote:
ThinkPad R61i 8943-DSG T2310(1.46GHz), 1GB RAM, 160GB 5400rpm HD, 15in 1024x768 LCD, Intel X3100, CDRW/DVDRW, Intel 802.11abg wireless, Bluetooth, Modem, 1Gb Ethernet, UltraNav, Secure chip, 6c Li-Ion, WinVista Business 32
I bought this one from a fellow forum member last year and had it shipped across the pond. Nowadays, very little remains from the original set of specs...
The most important - without a doubt - upgrade/mod was the Hydis LED UXGA LCD, performed by my dear friend
RealBlackStuff
. I've written extensively about these panels, and have owned and sold numerous FrankenPads that sported them. These screens are nothing short of amazing, and present a worthy upgrade to any 4:3 ThinkPad in 15" guise.
Somewhere along the way the machine "lost" its touchpad....
...but gained a T9300, 8GB matched Elpida RAM with heatsinks, San Disk Extreme Pro SSD and an Atheros AR9380 card. Let's not forget the Slovenian-layout keyboard that hasn't come from Slovenia - like the one on my T43pSF - but all the way from China. Middleton's BIOS? You bet. Genuine Lenovo (made in Japan) TrackPoint cap? Check, thanks to a fellow forum member.
So yes, this one was a rare bird to begin with and it's a fairly unique offering nowadays, especially on this side of the Atlantic.
And last but not the least, the latest addition to my fleet, the
X601T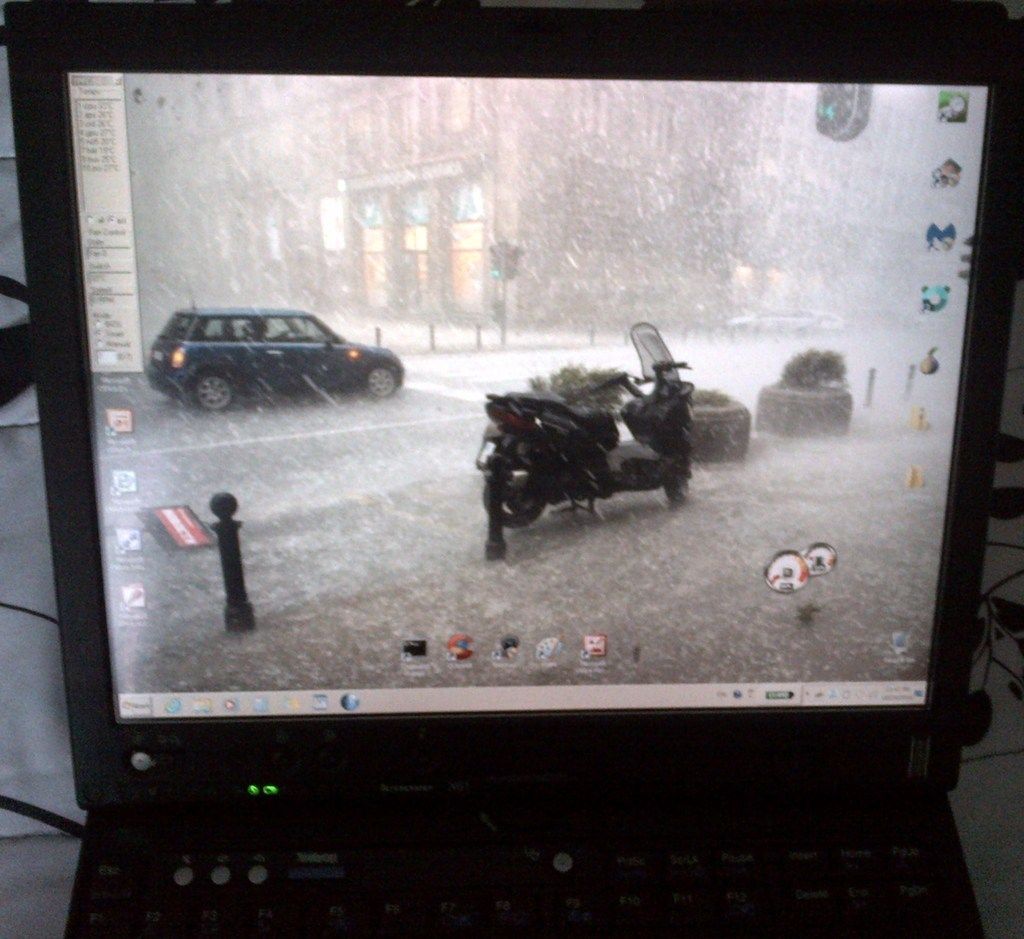 Huh? What on Earth is a X601T?
Well, it's an X61 tablet that has received a screen - or in most cases the entire lid - transplant (SXGA+ of course) from its older X60T cousin, in order to avoid the "bubbling" effect seen on hi-res X61T units...
The original specs were as follows:
Quote:
ThinkPad X61 Tablet 7762-K3U L7700(1.8GHz), 2GB RAM, 100GB 7200rpm HD, 12.1in 1024x768 LCD Touchscreen, Intel X3100, Intel 802.11abg wireless, Telus WWAN, Bluetooth, Modem, 1Gb Ethernet, Secure chip, FPR, 8c Li-Ion, WinXP Tablet 2005
So this one has lost its touchscreen - which I couldn't possibly care less about since I positively hate fingerprints on the screen of *any* kind - and its big battery, but gained a hi-res Hydis panel, 8GB matched Samsung RAM, Plextor M6 Pro SSD and an Atheros AR9380 wireless card. Not bad.
And yeah, this bad boy sports the fastest CPU available for these systems - L7700 running at 1.8 Ghz. Speed demon, I tell you.
Now if you'll excuse me while I try to take down that flying pink pig with Ray Bans that is intent on building a nest outside my window...
The LCD is living on borrowed time - which was fully disclosed to me by a fellow forum member at the time of purchase - and will have to be replaced. I've already obtained a complete replacement lid and will likely be performing the swap in the next week or two. Will start looking into a keyboard with Slovenian layout as well as into an 8-cell battery. But that's about it when it comes to this little guy. If I end up going to Europe again next year, this one is likely to be my travel partner.
So yes, 4:3 high-resolution screens in IPS and AFFS format have proven themselves to be an absolute must for silly old me.
Surprised? Yeah, I know. Was kinda shocked myself when I realized that...
Mark my words, kids: some addictions are extremely difficult to cure, and my own addiction to good screens and proper keyboards has been one of them, although Lenovo has done its absolute best over the last few years to cure my New ThinkPad Acquirement Syndrome...seemingly for good.